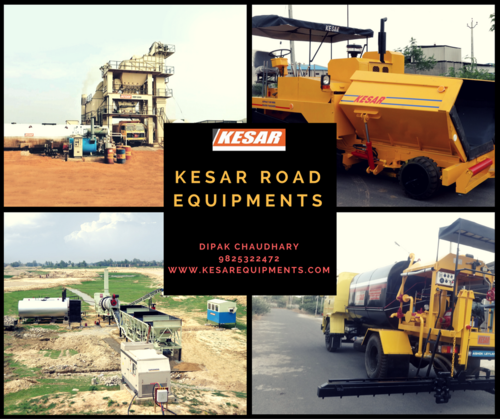 Product Description
We are highly acclaimed in this industry for manufacturing and exporting the best range of Sensor Paver Finisher. This finishing equipment is offered to clients in a wide range of specifications and models to meet their diverse needs. Widely used for finishing the roads, this Sensor Paver Finisher is wisely manufactured using best quality components and materials in strict tandem with the industry standards. We offer this machine to clients at competitive price.

Features:
Weather proof construction
Simple to operate
Durable quality

Product Details:
Condition : New
Model/Type : Asphalt road Paver finisher
Capacity : 120 to 150 tons/hour
Benefits:
Why should you buy a 'Keser' asphalt mix cum wet mix Paver finisher 'Keser' Pavers is based in preston where we have our production factory, service department and stores department. We have continuously prepared in our factory at Gozaria, dist: Mehsana, Gujarat, India since 2009. Our range of rubber tyred Paver finishers provide paving widths from 2.5 meter to 4.5 meters and on customer requirements up to 5.5 meters with depths from 10 - 200mm. Our comprehensive model range includes 4 wheeled asphalt cum wet mix macadam Pavers.
The key benefits and key features of the 'Keser' Paver range are
High ergonomics
Innovative modern and solid design technology
Rugged construction

Precision performance:
Power steering
Air brake for effective braking
Special design of chassis for more strength & stability
All operational controls are provided at one dashboard
Auto parts of tata / leyland vehicles for easily availability of spares.
Dedicated solely to the prepare of 'Keser' asphalt hot mix Paver cum wet mix Paver finishers product ensures users of our product are supported by a company focused totally on their continual paving needs. User friendly, simple maintenance, generous and easy access are key features in any 'Keser' Paver built today, with a strong influence to provide complete customer satisfaction throughout the service life of the 'Keser' paving unit. Versatility and flexibility enables the our Paver company to amend and alter standard build specification machines to be specifically tailored to match your exacting requirements, be that a country trend or an individual preference.
Services:
From an emergency site repair to a routine service through to a full and comprehensive scheduled maintenance service support contract and our service engineers reach at your site in 24 hours from your complain across the India.
Our factory service workshop is able to carry out detailed machine service through to complete machine overalls we realize and appreciate down time is extremely costly and for this reason our response time is considered to be amongst the best in the industry skilled field service engineers have comprehensively equipped vehicles enabling them to provide full site support for your Paver.
We hold stock of all Paver consumables and an extremely comprehensive range of all Paver parts be that mechanical - electrical - hydraulic components.
This time we make and offer mechanical Pavers that are with hydraulic screed extensions but no sensor controls.
In nearby future we will be developing world class hydrostatic Paver finisher with grade and slope sensor.
Further Details:
Our offered Sensor Paver Finisher is the most preferred machine used in the construction industry. With its ultra-modern technology, efficiency and simple operations are helpful for rendering maximum performance. With standard truck tyres, the mentioned Sensor Paver Finisher ensures years of seamless and effectiveness. This machine has been designed to fulfill the diverse needs of industrial and commercial applications such as highways, runways, bridges and many more. This machine can be easily customized as per the clients' requirements and as per the type of application.

Key Features:
Paving width ranging from 2.5 meters to 4.5 meters
Paving thickness varies from 10 to 200 mm
Maximum paving speed is 16.0 km per hour
Available with a crown of 6%