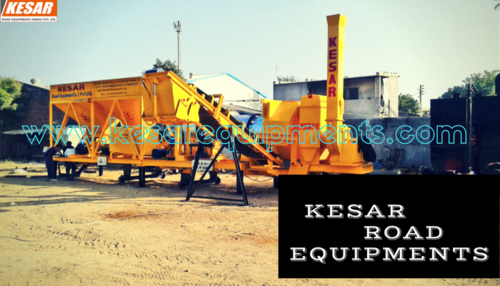 Product Description
We are counted as a renowned exporter, manufacturer and supplier of premium grade Mobile Drum Mix Plants. The offered plants are developed by using well chosen raw materials and cutting edge technical knowledge under the guidance of our team of veteran professionals at our well furnished production unit. These plants are widely used in construction sector for mixing of construction materials in bulk amount. Moreover, these Mobile Drum Mix Plants are available at competitive price range form us.

Features:
Easy operating system
Long working life
High functionality level
Minimal maintenance charge

The Mobile Drum Mix Plants offered by us are acknowledged for their standard quality, fuel efficient operation, state of the art process controlling technique and high automation degree. These plants are easy to install and are available with required site supporting facilities. These plants with high output rate can be obtained in tailor made configurations. These plants are accessible in different capacities. These are equipped with necessary accessories or components like mixing and drying unit, conveyors, fuel tank/L.D.O, four cold aggregate bin feeders and cob hopper. The bitumen storage tank of these plants is equipped with towing system on which electricity driven control panel and cabin are located. The chassis of these plants are designed with bitumen tank, mineral filler unit and fuel tank. The cold aggregate four bin feeder of these Mobile Drum Mix Plants consists of slinger conveyor.

Specifications:
We offer these plants with optional accessories like hot mix storage silos.
As a part of their pollution controlling system, these consist of bag house filter unit or wet dust collector.
The bitumen storage and heating tanks are provided as per customers requirements.
These plants are convenient to install
Factors Affecting On Production Capacity Of Any Asphalt Hot Mix Plant:
Type And Quality Of Fuel Being Used.
Hsd / Ldo / Fo (calorific Value Of Fuel)
Ambient Temperature ( 25 To 50oC Range)
Final Desired Mix Temperature ( 150 To 160oC Range)
% Of Moisture In Aggregates.
% Of Filler In Aggregate.
More % Of Dust Content (very Much) With Aggregates Being Fed Into Plant.
Dryer Design: ( Drum Dia, Length, It's Rpm, It's Inclination, Flights Design, Exhaust Fan Capacity, Type Of Burner Installed Etc.)
Burner And Exhaust Fan Capacity.
Plant Feeding Input Capacity.
Important Parameters
Minimum Tph Out Put At 6 % Moisture Content
For Example If Having Model Dm-45 Plant ( Cap. 40 To 60 Tons/hour)
40 Tph Out Put At 6 % Moisture Content
Capacity Is Reduced 3.3% Per Every 305 Meter Above 305 Meter Elevation From Sea Level.
Maximum Tph Out Put At 2 % Moisture Content
For Example If Having Model Dm-45 Plant ( Cap. 40 To 60 Tons/hour)
60 Tph Out Put At 2 % Moisture Content
All Calculations Are Based On 32' C Ambient Air And Aggregate Temperature