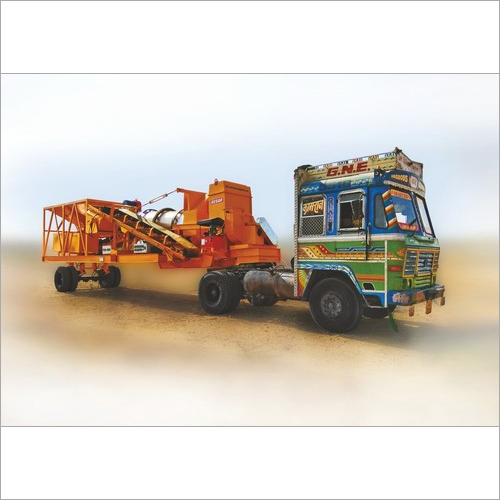 Mobile Drum Mix Plants
Product Description
Mobile Drum Mix Plants are known for their mobility factor which means that these can be easily carried from one place to another for the reason that these are not too big in size and are perfect in performing the task of mixing the given material in appropriate consistency which implies that the provided mixture is nor too thick nor to thin. The laying of the materials is also easy due to the smooth functioning of these plants. The plant is made using the graded steel and iron ores that under goes the heat treatment and also requires very less maintenance. Operating the plant is effortless and is very simple. These are fuel efficient and are manufactured with the features such as high automation degree and process controlling technique. The plant is easy to install and can be operated with different capacities based upon the requirement of the user. It is further comes along with various accessories and important parts which are very essential for ideal mixing such as mixing and drying unit, conveyors, fuel tank/L.D.O, four cold aggregate bin feeders and cob hopper. The plant also has a towing unit which holds electricity driven control panel and cabin. Mobile Drum Mix Plants features four bin feeder having slinger conveyor.

Features of Mobile Drum Mix Plants:
Easy operating system
Long working life
High functionality level
Minimal maintenance charge

Specifications:
These trait of plants has optional accessories like hot mix storage silos.
These comprises of bag house filter unit or wet dust collector which serves as the part of their pollution controlling system.
Storage tanks and heating tanks for bitumen are provided according to the needs of client.
Installation is very convenient.
Factors Affecting On Production Capacity Of Any Asphalt Hot Mix Plant:
Plant Feeding Input Capacity.
Burner And Exhaust Fan Capacity.
Dryer Design: ( Drum Dia, Length, Inclination, Flights Design, Exhaust Fan Capacity, Type Of Burner Installed Etc.)
More % Of Dust Content (very Much) With Aggregates Being Fed Into Plant.
% Of Filler In Aggregate.
% Of Moisture In Aggregates.
Final Desired Mix Temperature ( 150 To 160oC Range)
Ambient Temperature ( 25 To 50oC Range)
Hsd / Ldo / Fo (calorific Value Of Fuel)
Type And Quality Of Fuel Being Used.
Important Parameters
60 Tph Out Put At 2 % Moisture Content
40 Tph Out Put At 6 % Moisture Content
All Calculations Are Based On 32C Ambient Air And Aggregate Temperature
For Example If Having Model Dm-45 Plant ( Cap. 40 To 60 Tons/hour)
Maximum Tph Out Put At 2 % Moisture Content
Capacity Is Reduced 3.3% Per Every 305 Meter Above 305 Meter Elevation From Sea Level.
For Example If Having Model Dm-45 Plant ( Cap. 40 To 60 Tons/hour)
Minimum Tph Out Put At 6 % Moisture Content