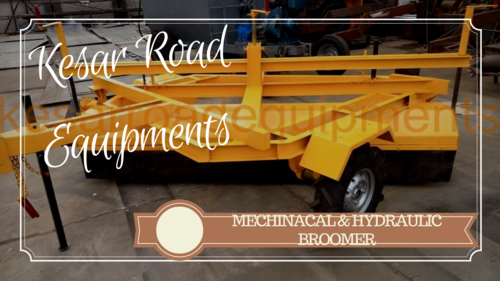 Hydraulic Road Sweeping Machine
Product Code : 00
Product Description
Our company has gained immense appreciation from clients for exporting a wide array of qualitative Hydraulic Road Sweeping Machine. It can be easily attached to tractors, loaders or forklifts.Specifically developed for use in rough road works, this hydraulic road sweeping broomer machine is offered to clients with or without the dust collecting hopper. These Hydraulic Road Sweeper Machine are wisely manufactured using best quality materials.

Features:
Excellent dust collection efficiency

Rugged designs
Long term durability
Further details
No other company better than ours could serve made with utmost perfection Hydraulic Road Sweeper Machine that finds extensive utilization in removing dust particles easily that are collected on metaling, asphalted and wet macadam surfaces. With requirement of minimal manpower, Road Sweeping Hydraulic Broomer needs zero maintenance because it is designed with a purpose to make roadways neat and clean, and in fulfilling this purpose, any error on the part of construction is not acceptable. 3.nos height fitting screws with easy to use handles are provided in machine for stiff or unwavering contact of the brush roller with ground at the time of sweeping slopped road surfaces and plain ones.
Key Points
Efficient screw kind of a handle to set the brush section to grounding the road surface for sweeping is provided
Roller is raised up by taking into use the 3 screws, at the time transporting machine to several locations for cleaning purpose
The angular shaped brush part is there for easy sweeping and pushing dust to the leftmost side of the road.
The use of nylon bristles in brushes provides guarantee of proper cleaning on WMM, WBM & metaling surfaces.