Electric Bitumen Boiler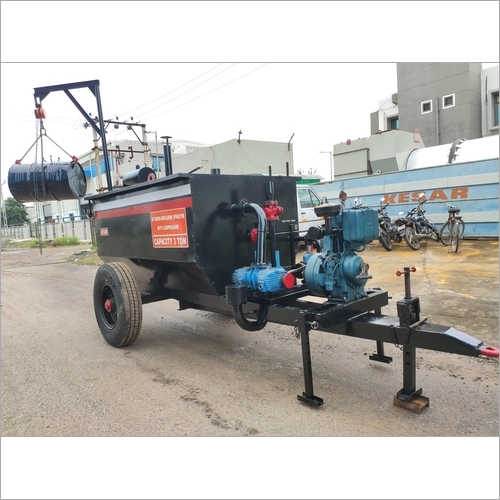 Electric Bitumen Boiler
Product Description
We are a well known manufacturer and exporter of an excellent range of Electric Bitumen Boiler. This boiler is specifically engineered to meet all the industry demands, with a variety of outlets, loading arrangements, agitation and temperature control. Our wide range has varied specifications and models of Bitumen Boiler to meet all types of industry requirements. We use best quality components for manufacturing this boiler.

Features of Electric Bitumen Boiler:
Quality two coat paint system finish
Fully insulated casing
Reduced fuel consumption
Product Details:
Model/Type : KRE 2500 to 3000
Material of Construction : 2500 to 3000 liter
The Kesar Bitumen Emulsion Sprayer is devloped for tack - coat from manually hand spraying arrangement up to 5 mts. the unit can be supplied on 2 nos. axels and 4 nos. trolly wheels.

Series:
KRE 2500 ( Capacity 2500 Litres )
KRE 3000 ( Capacity 3000 Litres )
Specifications:

Standard Make 6.0 HP air cooled diesel engine )
Air blower
L.A.P. Burner
Wood Fire Bhatti
Reduction Gear
Bitumen - Emulsion pump
Pressure Cleaning System
Suitable Pipelines with Valves
Hand Spray Nozzle with handle Pipe
3 to 5 mtr. S.S. Corru. flexible hose pipe
Drum Loading Systems
Chain pully block (cap. 1 ton)
Trolley wheel (4 No.s)