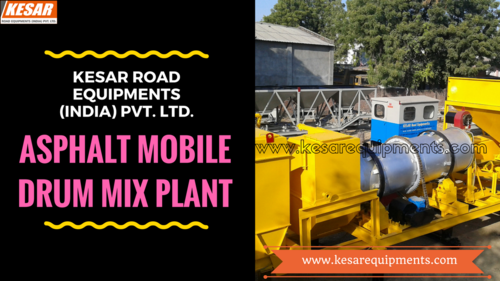 Asphalt Mobile Drum Mix Plant
Product Description
Developed under the guidance of our competent professionals, the offered Asphalt Mobile Drum Mix Plant consists of quality approved components. Featured with latest mechanism, this plant is extensively used in construction industry for uniform blending of construction materials like sand, bitumen and stone. Apart from that, this Mobile Asphalt Plant is verified on the basis of necessary quality checking parameters in order to achieve complete customer satisfaction. We offer this plant at affordable price and within specific time to our esteemed clients.
Asphalt Mobile Drum Mix Plant Features:
Besides saving transportation charge, this portable plant is preferred for its high working speed, capacity to maintain standard quality of asphalt, less assembling time and necessary safety features. The foundation of this plant is made of metal. Therefore, it does not need any concrete foundation for its installation. Its few features are:
Control cabin is fully insulated.
Convenient maintenance process and less maintenance charge.
Has PLC type and SCADA type microprocessor.
High output rate, user friendly designs and long working life.
High working speed helps to save operation time.
Metal fabricated foundation of this plant eliminates the necessity of using concrete foundation.
Minimal maintenance charge and reliable operation.
Suitable for construction works that require site shifting.
The special design of its chassis allows trouble free space integration for generator.
Uses and Availability of Portable Asphalt Mobile Drum Mix Plant: Our small capacity Asphalt Mobile Drum Mix Plant is specially designed by keeping construction requirements of different road projects in mind. This easy to carry asphalt plant is notable for its compact shape, ergonomic design, consistent performance, quick start up time and convenient assembling as well as dissembling functions. This portable plant is especially suitable for those construction works where shifting of site is required. The unique design of this plant helps to save inside space of it. Accessible in different working capacities, the provided construction machinery consists of:


Aluminum or stainless steel made bitumen storage tank with glass wool insulation.
Burner fueled by diesel.
Cylinder shaped drum insulated with cera wool for maintaining necessary temperature level.
Feeder bin for easy loading of aggregates.
Microprocessor driven control panel.
Motor with low noise level.
Variable speed drive gear to regulate aggregate flow between its vibrating motor and bin. The plant can be installed within a short span of time and can be set up sans any foundation. The legs of this plant can be folded and its safety lights and pneumatic braking system have simplified its handling technique.


It is accessible with components like filler silos, bitumen storage tank, aggregate cold feeders, asphalt storage tanks and bag filters depending on the requirements of customers. A set of hydraulic or mechanical lifters are attached to its bag filter for maintaining proper positioning of this plant. Same type of lifters is used to position its fuel storage tanks, cold feeders and bitumen tanks.


We also provide necessary suspension accessories for its trailers for safe transportation of its chassis. The unique design of this plant allows its operator to use special type of additives like polymer, fibers and colorants during production of asphalt.