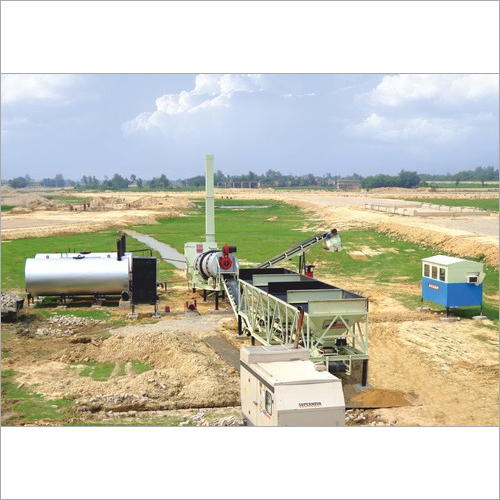 Product Description
We are recognized as a well-known manufacturer, exporter and supplier of a quality checked range of Asphalt Drum Mix Type Hot Mix Plant. This plant is made by using the best grade components and pioneering techniques by our ingenious professionals. During construction of bridges, street roads, flyovers and highways, the offered plant is used for processing of road stone or asphalt material. In addition, our valuable clients can buy this Asphalt Drum Mix Type Hot Mix Plant from us at market leading rates within a stipulated time frame.
Features:

Hassle free performance
Longer service life
Less maintenance
High durability
Series:
DM-45 (Capacity 40-60 tones/hour)
DM-50 (Capacity 60-90 tones/hour)
DM-60 (Capacity 90-120 tones/hour)
What is Asphalt Drum Mix Type Hot Mix Plant?

An asphalt plant is known as a production unit for macadam, asphalt and different types of coated road stones that are commonly referred as asphalt concrete or blacktop.


What is asphalt sand?

Sand, crushed form of rocks, slags or gravel are suitable aggregates that are used for asphalt mixtures. Binder is utilized to enhance binding properties and uniformity of mixing of these aggregates. Usually, bitumen is utilized as a standard binder.


What is asphalt used for?

Generally, asphalt concrete pavement constitutes of 95% aggregates like sand, stone and gravel; asphalt or bitumen with 5% in quantity. Due to its high viscosity level, it is advised to heat bitumen cement or asphalt during its production so that the produced item can be blended with aggregates at the mixing plant of asphalt.


The standard configuration of the plants comprise of the following units:

Bin feeders for cold aggregate "vibrating screen for elimination of large shaped particles " slinger conveyor " separate unit for drying and mixing purpose "load out conveyor which is equipped with anti segregation gob hopper" tank for heating and storage of bitumen "filtering unit for mineral substances "control panel and control cabin with automatic operation and weather proof design. These plants also contain optional accessories like attachments that include storage silos for mixed elements, wet dust collector that prevents environmental pollution during functioning of these plants, storage tanks and heating tanks for bitumen as per the specific requirements of customers. Since 207, over 100 plants of 30 to 120 TPH capacity range are working for production of asphalt.


Technical Specification:
Fourbin Feeder

DM-45 ( 40-60 tph )

DM-50 ( 60-90 tph )

DM-60 ( 90-120 tph )

No. of Bins

4

4

4

Storage Capacity

32 tons

40 tons

54 tons

Auxiliary Drive Motor

1.5 Kw x 4 Nos

1.5 Kw x 4 Nos

1.5 Kw x 4 Nos

Auxiliary Conveyor Belt

450 mm x 2.5 mtrs x 3 ply

450 mm x 2.75 mtrs x 3 ply

450 mm x 2.75 mtrs x 3 ply

Auxiliary Conveyor Gear Box

SMSR x 4 Nos

SMSR x 4 Nos

SMSR x 4 Nos

Gathering Drive Motor

3.75 kW

3.75 kW

3.75 kW

Gathering Gear Box

SMSR

SMSR

SMSR

Gathering Conveyor Belt

500 mm x 24 mtrs x 3 ply

600 mm x 26 mtrs x 3 ply

600 mm x 26 mtrs x 3 ply

Bin Vibrator (1 No.)

0.75 kW

0.75 kW

0.75 kW

Feeding Capacity

100 tph

150 tph

200 tph

Overall Dimension (Approx)

12.10 mtrs x 2.10 mtrs x 2.32 mtrs

13.13 mtrs x 2.38 mtrs x 2.45 mtrs

13.13 mtrs x 2.63 mtrs x 2.55 mtrs

Total Connected Load

10.50 kW

10.50 kW

10.50 kW

Over Size Removal Screen

Drive Motor

0.37 kW x 750 rpm

0.37 kW x 750 rpm

0.37 kW x 750 rpm

Wire Mesh

65 mm x 65 mm

65 mm x 65 mm

65 mm x 65 mm

Slinger Conveyor










Conveyor Drive Motor

3.75 kW

3.75 kW

3.75 kW

Conveyor Drive Gear Box

SMSR

SMSR

SMSR

Conveyor Belt

500 mm 15 mtrs x 3 ply

500 mm 16 mtrs x 3 ply

600 mm 18 mtrs x 3 ply

Thermo Drum Unit

Drive Motor

15.00 kW

18.75 kW

30.00 kW

Drive Gear Box

Heavy Duty Worm gear

Heavy Duty Worm gear

Heavy Duty Worm gear

Drive Chain Pitch

63.5 mm

78.1 mm

78.1 mm

Main Burner Connected Power

250 lph / 3.75 kW

350 lph / 5.62 kW

770 lph / 11.25 kW

Exhauster

10500 cfm

14500 cfm

14500 cfm

Exhauster Drive Motor

15.00 kW

18.75 kW

30.00 kW

Multiclone Primary Dust Collector

No. of Cones

15

20

21

Dust Screw Drive Motor

15kW

1.5 kW

1.5 kW

Fuel Tank










Capacity

2000 liters

4000 liters

8000 liters

L/o Conveyor Belt- HR Grade

500 mm x 16 mtrs x 3 ply

600 mm x 18 mtrs x 3 ply

600 mm x 20 mtrs x 3 ply

Gob Hopper Capacity

1.0 ton

1.0 ton

1.5 ton

Hyd. Power Pack

2.25 kW

2.25 kW

2.25 kW

Bitumen Tank

Capacity & Shape

15 tons (U Shape)

20 tons (U Shape)

20 tons (U Shape)

Bitumen Drive Motor

3.75 kW

3.75 kW

3.75 kW

Bitumen Gear Box

Heavy Duty Worm gear

Heavy Duty Worm gear

Heavy Duty Worm gear

Bitumen Pump (Jacketed)

50.8 mm x 50.8 mm

50.8 mm x 50.8 mm

50.8 mm x 50.8 mm

Hot Oil Drive Motor

0.75 kW

0.75 kW

0.75 kW

Hot Oil Pump

19.05 mm x 19.05 mm

19.05 mm x 19.05 mm

19.05 mm x 19.05 mm

Mineral Filler Unit

Drive Motor

0.75 kW

0.75 kW

0.75 kW

Drive Gear Box

Heavy Duty Worm gear

Heavy Duty Worm gear

Heavy Duty Worm gear

Rotary Valve

150 mm

150 mm

150 mm

Chain Pitch

25.4 mm

25.4 mm

25.4 mm

Capacity 1 m³

1 m3

1.5 m3




Air Compressor

5.62 kW

5.62 kW

5.62 kW

Total Connected Load

62.99 kW

73.36 kW

101.24 kW

Open Load Requirement

35 mtrs x 35 mtrs

35 mtrs x 35 mtrs

40 mtrs x 40 mtrs