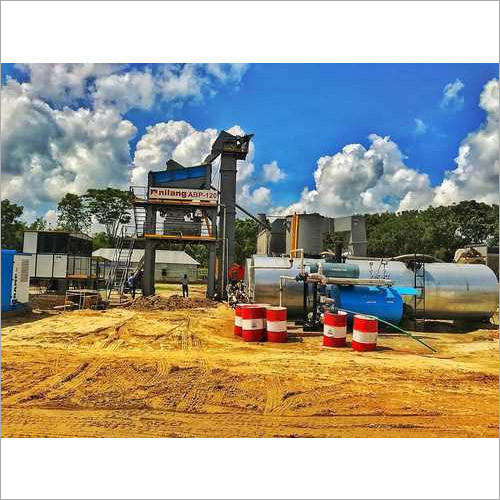 Asphalt Batch Mix Plant
Product Description
Offered Asphalt Batch Mix Plant has been designed by following cutting edge technical knowledge and certified machine parts. Operation of this plant is executed under the strict guidance of our experienced personnel. This plant is reckoned for its high output and reliable operation. Its presence can be noticed in different construction sites. Asphalt Batch Mixer is mainly required for homogeneous blending of sand, stone, bitumen and various other aggregate materials in large quantity. We dispatch this plant to its required destination within stipulated time frame and that too at affordable price.
Features of Asphalt Batch Mix Plant:
Durable structure
Smooth operation
Defect free design and sturdy construction
Long working life
Specifications:
Provided plant comprises of 4/5/6 pre batch feeder unit which is connected to independent electric variable drive motors. Vibratory motor of this plant is attached to a bin.
Dryer section of this plant is fully insulated and it is connected with its mechanically operated silenced burner. The burner comprises of infrared probe, pre heater and conveyor. Dryer feeding arrangement of its conveyor ensures about its fast operation.
Facility of hot elevator
Vibratory screen of this plant has four or five decks.
It has four to five hoppers for storage of heated aggregates.
Weighing unit of this plant is used to measure weight of filler materials, hot mix, aggregate and bitumen.
It also has separate storage and heating units for bitumen.
Equipped with hot oil heat exchanging section
Computer controlled panel with printing arrangement
Also comprises of video facility, PC connectivity, power room arrangement and PLC system
Boasts of having bag type air pollution controller that has exhauster and chimney
Equipped with bag filter
Ergonomic filter elevator to collect dust accumulated in bag filters
Hot mix silo that has level indicator, two compartments and discharge door
Also comprises of intermediate hopper
Asphalt Batch Mixer Advantages:
Compact shape and sturdy design of this plant have made it perfect for severe working environment.
Its maintenance cost and production charge is lower than commonly used asphalt mixing systems.
This plant is equipped with burner that can be driven by different types of fuel. This advanced burner comprises of ergonomic drum for blending and drying of construction materials.
Entire body of its drying drum is insulated.
This plant can be availed in modular design. It can be shifted easily and can be installed without any trouble.
Simple to install, this plant helps to reduce project cost associated with labor charge.
It is made of industry specified raw materials.
Control panel of this plant is simple to operate.
All its parts can be accessed and managed easily. Simple to maintain, this plant ensures better productivity.
In place of bag house filter, this plant is offered with wet dust collector that makes it ideal for countries where pollution controlling norms are not followed so strictly.
All its spare accessories can be availed at affordable price range in any parts of the country.
User friendly PLC control panel of this plant has storage space for different parameters of hot mixes. This facility is useful especially during frequent changing of mixing parameters.
Standard configuration of the plants comprise of the following units:
Dryer Drum
Cold Aggregates Bin Feeders
Weigh Bins
Over Size Removal Vibrating Screen
Weather Proof Control Cabin
Mineral Filler Unit
Slinger Conveyor Unit
Hot Bins
Pug Mill Mixer Unit
Hot Elevator
Bitumen Heating & Storage Tanks
4-Deck Vibrating Screen
Fuel Tank
Fully Automatic Control Panel
Batching Tower
Thermic Oil Heater
Bag Filter
Specification
| | |
| --- | --- |
| Is It Portable | Non Portable |
| Capacity | 120 to 250 Ton/Hour |
| Usage/Application | Asphalt Road Construction |
| Condition | Unused |
| Automation Grade | Automatic |
| OEM Service | Yes |
| Brand | Kesar |