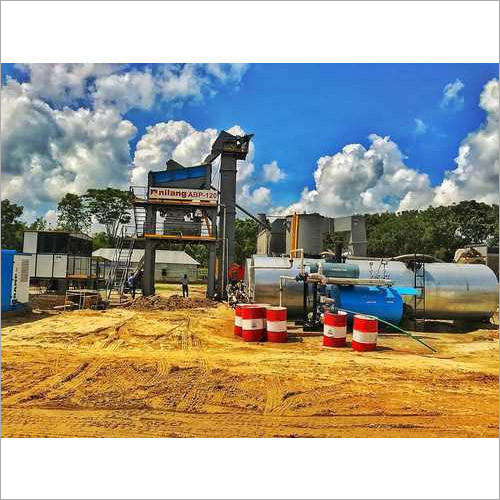 Product Description
With the use of ultramodern techniques and quality assured components, this Asphalt Batch Mix Plant is equipped by our ingenious professionals. Owing to its high efficiency, excellent performance, our provided plant is highly demanded to be installed at construction sites. The provided plant is used for mixing bitumen, stone, sand and other construction materials in bulk. Within committed delivery time span, our clients can avail this Asphalt Batching Plant from us at marginal prices.

Features:
High strength
Trouble free performance
Flawless and rugged design
Longer functional life
Specifications:
Asphalt batch mix plant consists of 4 or5 or 6 pre batch feeder system which is attached to its separate variable drive motors driven by electricity and single bin connected to its vibratory motor.
Its dryer with high insulation properties is attached to its automatically operated silenced burner which is featured with necessary components like pre heater, infrared probe and conveyor with dryer feeding facility.
Hot elevator arrangement
Vibratory screen with four or five deck facility
For storing of hot aggregates, four or five hoppers are provided
Equipped with weighing unit for bitumen, aggregate, hot mix and filler
Heating and storage system for bitumen along with hot oil heat exchanger
Computer operated control panel with printer, PLC, power room, video and PC facility
bag filter and bag type air pollution regulating system with chimney and exhauster
Precisely designed filter elevator to restore dust from bag filters.
Intermediate hopper, hot mix silo that consists of two compartments, level indicator and discharge door.
Advantages:
The robust and compact structural design of this plant has made it harsh working environment utilization purpose
Lower operation cost and maintenance charge when compared to its other counter parts
Asphalt batch mixer plant consists of multi fueled burner with high performance level. This burner is equipped with drum for mixing and drying works
The drying drum is thermally insulated
The offered asphalt batching plant is available in modular unit design and it is convenient to relocate and install as well
Easy to erect, this plant requires less civil work at the plant premise
All the materials used for the fabrication of this plant are in sync with industry specified standard.
Asphalt batch mixing plant's control panel has contributed to its easy operating system
All its components are convenient to access which has simplified its maintenance process and ensures higher output
Instead of bag house filter, we offer this plant with wet dust collector which is perfect for those countries where pollution controlling guidelines are not strictly observed.
All its spare parts are known for their lowest price range across the country
The easy to operate PLC control panel allows its operator to store different hot mix recipes that proves to be advantageous during frequent changing of recipes.
Standard configuration of the plants comprise of the following units:
Cold Aggregates Bin Feeders
Over Size Removal Vibrating Screen
Slinger Conveyor Unit
Dryer Drum
Hot Elevator
Batching Tower
Hot Bins
Weigh Bins
4-Deck Vibrating Screen
Mineral Filler Unit
Pug Mill Mixer Unit
Fuel Tank
Fully Automatic Control Panel
Weather Proof Control Cabin.
Bag Filter
Thermic Oil Heater
Bitumen Heating & Storage Tanks