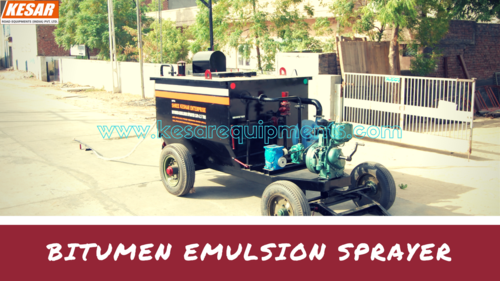 Product Description
We have marked a great niche in this industry for manufacturing and exporting the best range of Apollo Bitumen Emulsion Sprayer. This emulsion sprayer is specifically developed and engineered for tack and prime coat by hand spraying arrangement and intermittent spraying application. This Apollo Bitumen Emulsion Sprayer is capable of applying uniform coating of hot bitumen and emulsion on specified surface. We are offering this sprayer to clients in varied specifications and models to meet their exact needs.
Features
Durable quality
Long working life
Long term durability
Series
KRE 2500 ( Capacity 2500 Litres )
KRE 3000 ( Capacity 3000 Litres )
Specifications
Standard Make 6.0 HP air cooled diesel engine )
Air blower
L.A.P. Burner
Wood Fire Bhatti
Reduction Gear
Bitumen - Emulsion pump
Pressure Cleaning System
Suitable Pipelines with Valves
Hand Spray Nozzle with handle Pipe
3 to 5 mtr. S.S. Corru. flexible hose pipe
Drum Loading Systems
Chain pulley block (cap. 1 ton)
Trolley wheel (4 No.s)
Further Details
Using stand alone spray equipment can be very difficult to use and may lead to many workplace injuries. This is being the reason; we offer Apollo Bitumen Emulsion Sprayer that is fitted into a lifting frame for protecting all the fittings. Although, the mentioned machine is usually charged using wet tank of the truck and brake valve, however, it is equipped with an independent electric compressor and is vertically mounted over the truck. Its heavy duty hose is available with the length of 10 meters, but possess the capacity of twenty meters.